---

The Stuttgart-based brand

By the way: Giorgio Armani recently started driving one of these 100 special-edition models.

---
Übrigens: Auch Giorgio Armani fährt seit kurzem eines der 100 Sondermodelle.
Mercedes-Benz CLK designo by Giorgio Armani
Milan - Following the presentation of Giorgio Armani's exclusive special designo range for the "Mercedes-Benz CLK designo by Giorgio Armani" at the international motor show in Paris, the first of these vehicles have now been delivered to customers.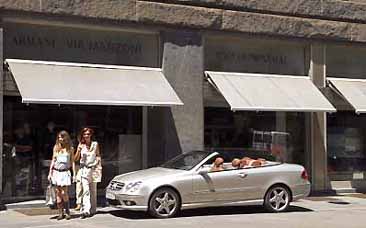 These automotive rarities, limited to just 100 units, are inspired by the ideas of the renowned Italian fashion guru Giorgio Armani. The four-seater Mercedes-Benz CLK-Class Cabriolet merges the legendary automotive design of Mercedes-Benz with Giorgio Armani's distinctive grasp of style and elegance in an exciting crossover. Single-colour paintwork in the matt sand tone typical of Giorgio Armani and a harmoniously adapted interior created with high-quality materials equip this vehicle with striking aesthetic properties, exuding a sporty, masculine air combined with carefully expressed refinement. The joint cooperative venture between the Stuttgart-based car maker and the Milan-based fashion designer started out with a show car which was received with great enthusiasm when unveiled in autumn 2003 in Milan during Fashion Week.
In close cooperation with DaimlerChrysler Advanced Design Center in the northern Italian town of Como and based on a shared design philosophy which focused on style, elegance, quality and timelessness, the partners created a Mercedes-Benz CLK 500 Cabriolet bearing the unmistakable hallmark of Giorgio Armani. "I am delighted to see just how faithfully Mercedes-Benz has translated my design ideas into reality" said the famous designer. The unique matt paintwork which Mercedes-Benz designo developed especially for the "Mercedes-Benz CLK designo by Giorgio Armani", a matt sand tone known as "sabbia" modulates the distinctive lines of the Cabriolet to great effect. High-sheen black decorative features provide contrasting highlights. Even the colour of the roof was carefully adapted to match the body paintwork of this inspirational limited edition. Additional AMG body styling elements and 18-inch AMG light-alloy wheels, in vehicle colour but with a high-sheen paint finish, further enhance the look of this cabriolet. The interior, in which classic and skilfully crafted brown designo leather and high-tech textiles dominate, also echoes the colour tone of the exterior paintwork, creating a harmonious whole. All the decorative chrome details share a high-quality matt finish referred to as the "aged look".
The technology platform is the CLK 500 Cabriolet. Its V8 engine delivers 225 kW/306 hp and, in conjunction with its carefully coordinated suspension, guarantees dynamic open-air driving pleasure combined with superlative comfort for up to four people. An exceptionally robust body shell, automatic rollover protection, head/thorax side airbags as standard, back seat airbags, adaptive airbags for driver and passenger, seat-belt tensioners on all seats and a sensor-controlled rollover bar all contribute towards a high level of occupant safety. In keeping with these challenging standards, the Giorgio Armani styled CLK Cabriolet satisfies almost every conceivable wish in terms of interior appointment. Standard equipment includes the ultra-convenient THERMOTRONIC automatic air-conditioning system with sun sensor, stereo radio and surround sound system with ten speakers and 8-fold 40 Watt amplifier power, electrically operated front seats with memory function, seat heating, low-beam assistant, PARKTRONIC, rain sensor for the windscreen wipers and cruise control with SPEEDTRONIC.
MERCEDES-BENZ news-media, June 29, 2005
Top