---

The Stuttgart-based brand

Built as the world's fastest racecar transporter, this one-of-a-kind Mercedes-Benz was powered by the same engine as the legendary 300SL "Gullwing" sports car
LEGENDARY MERCEDES-BENZ 300 SLR BIDS U.S. FAREWELL
PEBBLE BEACH, CA. - Mercedes-Benz will present a memorable motorsports display at the 2005 Pebble Beach Concour D'Elegance on August 21.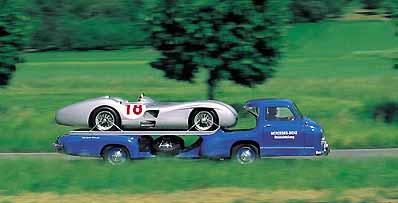 The 300 SLR sports-racing car driven to victory by legendary driver Stirling Moss in the 1955 Mille Miglia, Italy's classic road race, will make its final appearance in the United States before retiring to the new Mercedes-Benz Museum in Stuttgart, Germany. The transporter that carried the 300 SLR to Europe's famous racetracks during the 1954-1955 racing season will pay its first U.S. visit in almost fifty years. Considered one of the most beautiful racecars of all time, the Mercedes-Benz 300 SLR was based on the company's dominant W 196 Formula One racer using fully enclosed bodywork with a navigator's seat and a trunk. The inline-eight cylinder Grand Prix engine, with displacement enlarged from 2.5 to 3.0 liters, produced 310 horsepower at 7,500 rpm. The 300 SLR body was likewise advanced in that it was made from a tough yet malleable form of sheet magnesium, which was lighter than aluminum. Top speed depended on the transmission and final drive gear ratios used for a particular race and could be as high as 185 mph. In the hands of racing legend Stirling Moss, who will be reunited with his victorious racing car at the Pebble Beach event, the 300 SLR set a course record in the 1955 Mille Miglia that would never be broken. Moss and his navigator Dennis Jenkinson won this challenging and dangerous race in just 10 hours, 7 minutes, and 48 seconds for an average speed of 97.96 mph - nearly 10 mph faster than the previous course record.
Built as the world's fastest racecar transporter, this one-of-a-kind Mercedes-Benz was powered by the same engine as the legendary 300SL "Gullwing" sports car. Unfortunately, the original was scrapped in 1967 after serving as a workhorse vehicle in the company's test department. The "new" transporter is a near-exact replica - "near exact" since it was recreated without the benefit of blueprints of the original - because they did not exist. The reconstruction project supervised by the Mercedes-Benz Classic Center encompassed seven years working from old photos, internal memos and reports and other descriptions to build the "new" transporter.
Weighing nearly 7,000 pounds with a racecar on its bed, the Mercedes-Benz transporter was capable of achieving high speeds. "Max. Speed 105 mph" was painted on its rear fenders to answer the frequently asked question - "How fast will it go?"
Following its appearance at the Pebble Beach Concours, the "new" 1954 transporter will return to Germany with its priceless cargo - the 300 SLR. The pair will be permanently displayed together in the new Mercedes-Benz Museum scheduled to open in March 2006.
MERCEDES-BENZ news-media, August 2005
Back to Top