---

2012



The newest S models are powerful but elegant sporty cars. They are powered by a newly designed 4.0 TFSI engine, which provides 309 kW (420 hp), yet respectively averages just 9.6 or 9.7 liters of fuel per 100 km (24.50 or 24.25 US mpg) – thanks in part to new cylinder on demand technology. A sophisticated chassis, lightweight bodies and a refined interior complete the profile of these perfect new Audi athletes.

---

The new S models by Audi – The latest in state of the art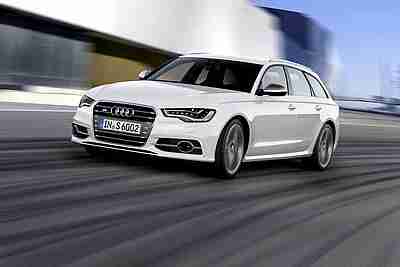 The new S models are sports cars for everyday life. Their twin-turbo V8 delivers 309 kW (420 hp) from a displacement of four liters while transmitting 550 Nm (405.66 lb-ft) of torque between 1,400 and 5,200 rpm. The 4.0 TFSI reacts instantaneously because the approach concerning cylinder heads – the inlet side is outside and the exhaust-gas side is inside – allows for short gas-travel paths with minimal friction losses. Two twin-scroll turbochargers ensure that considerable torque is generated faster than otherwise.
The Audi S6 accelerates from zero to 100 km/h (62.14 mph) in 4.6 seconds; the S6 Avant and the S7 Sportback each need just one-tenth of a second longer. The S6 and the S7 Sportback each averages 9.6 liters of fuel per 100 km (24.50 US mpg), while the S6 Avant consumes 9.7 l/100 km (24.25 US mpg). The all-new cylinder on demand system, which switches off four of the eight cylinders during part-load operation, contributes significantly to this efficiency. At the same time, the active noise control (ANC) system largely counteracts unwanted noise by broadcasting targeted cancellation sounds into the vehicle interior via the sound system's loudspeakers. Active engine mounts simultaneously offset low-frequency vibrations via countermeasures. The seven-speed S tronic and quattro permanent all-wheel drive are standard equipment in all three new S models; the latter operates in conjunction with torque vectoring. Upon request, Audi will complement it with the sport differential, which actively distributes power between the rear wheels.
adaptive air suspension sport is also standard. This suspension's stiff setup with controlled damping lowers the vehicle body of the S7 Sportback by ten millimeters (0.39 in) and that of the S6 by 20 millimeters (0.79 in). The Audi drive select dynamics system incorporates not only the air suspension but also optional components such as the sport differential and dynamic steering. The driver can vary its operation step-by-step.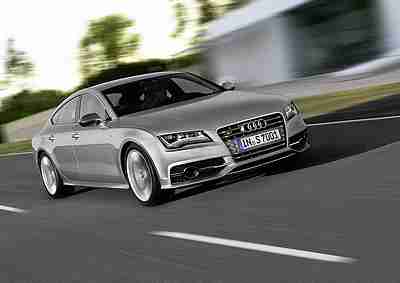 Wheels with the format 8.5 J x 19 come with 255/40 tires. Black brake calipers with S6/S7 logos encircle the front disc brakes. Upon request, Audi will supply ceramic carbon-fiber brake discs and wheels up to 20 inches in diameter (S7 Sportback: up to 21 inches). In addition to the large wheels, other exterior details on the bumpers, single-frame radiator grille and exhaust tailpipes in particular as well as exterior mirrors in aluminum look confirm the status of the new S models. Xenon plus headlights with LED daytime running lights and LED rear lights are standard. The bodies of all three models consist of around 20 percent lightweight aluminum. These bodies excel due to their low weight, outstanding crash safety, high torsional rigidity and sophisticated aerodynamics.
Black throughout, the interior is sportily elegant; instrument dials are gray and the needles white. Trim parts in aluminum look, plus door sill trims and bezels made of aluminum, are minor highlights. Electrically adjustable sports seats are standard equipment for drivers and front-seat passengers in the new Audi S6 and Audi S6 Avant; the S7 Sportback has S sports seats with integrated head restraints. Additional standard equipment in all three models includes a four-zone, automatic climate-control system, the Audi pre sense basic safety system, and MMI Radio with Audi sound system. High-end options range from a head-up display through an ambient lighting package to the driver-assistance systems such as adaptive cruise control with stop & go function and the night vision assistant, which highlights detected pedestrians.
The Audi S6, the S6 Avant and the S7 Sportback are also best-in-class regarding infotainment systems. The top-shelf solution is MMI Navigation plus with an innovative touchpad, MMI touch. It can be enhanced by means of the Bluetooth car phone online, which allows passengers to enjoy unrestricted online connectivity thanks to a WLAN hotspot. Audi connect provides drivers with customized services such as Audi online traffic information and Audi music stream, a new Internet radio app. The new S models will be available at dealerships early this summer. In Germany, the Audi S6 costs 72,900 euros, the S6 Avant 75,250 euros and the S7 Sportback 79,900 euros.
The equipment, data, and prices specified in this document refer to the model range offered in Germany. Subject to change without notice; errors and omissions excepted.
READER COMMENTS


AUDI AG, Kommunikation Produkt/Technologie
AUDI AG, Product/Technology Communications
Ingolstadt, 2012
www.audi-mediaservices.com
---
HOME | CARS AND VEHICLES | AUDI MODELS | MOTORIST LIFETYLE | MOTORSPORTS | SHOWROOM | OLDTIMER |
HOME | MODELLE | AUDI MODELLE | MOBILER ALLTAG | MOTORSPORT | SHOWROOM | OLDTIMERBERICHT |
© Copyright 2012, motormove online. All rights reserved.